APNIC 54 | SGNOG 9 | Singapore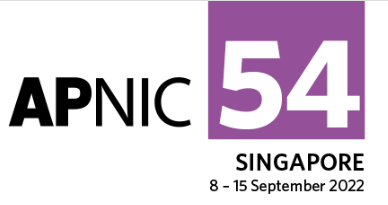 Upcoming presentations
Next week will be APNIC 54 conference followed by SGNOG 9 (Singapore Network Operators Group) event. I will be attending both events. At APNIC 54 I will be doing a short tutorial on "Running Containers in Production" with CI/CD pipelines with a focus on its utility in network engineering and also a panel discussion on "World IPv6 2022 - the story behind the events". This should be fun!
Next as APNIC 54 ends, there will be SGNOG 9. I will be doing a short talk on the subject which I posted here recently - "Managing Internet Exchange Route Server from Git". Idea is to demonstrate building CI/CD pipelines to utilize open source project Arouteserver to build BIRD routing daemon configuration & push it to route server via Ansible. This will get the IX administrator a simple clients.yml to manage the route server. One can run various checks upon commit of changes in clients.yml and build an entire configuration out of it.
Singapore & Network Infrastructure
Singapore undoubtedly has one of the best infrastructures in every category and this includes the IP backbone as well. Equinix Singapore is considered to be one of the largest Internet Exchanges in the region. While it's a tiny country geographically, the datacenter, as well as the submarine cable footprint, is impressive.
Some data connectivity:
Equinix Singapore has 399 member networks peering on its fabric spread across its 5 datacenters reference
SGIX has 174 member networks and doing a peak of 1.3Tbps as of now!
There are 11 registered IX'es & 49 datacenters on peeringdb. Surely it would have some noise, but discounting 30-40% of it is still an impressive number
Singapore has a large number of submarine cables connecting them directly with India, Indonesia, Pakistan, the Middle East, Australia & many more. It acts as a major hub for reaching countries in Asia.
India connects to Singapore via Bharti Airtel's 3200km long i2i cable (Chennai, India - Tuas, Singapore), SeMeWe3 39000km long cable connecting from Australia to Singapore & further to Europe via the Middle East. It's a pretty old cable by a large consortium with Tata Communications as the Indian member & landing their Cochin & Mumbai landing stations. Besides SeMeWe3, SeMeWe-4 is connecting Singapore - Thailand - India - Pakistan - Egypt, Saudi Arabia, and further Marseille, France. SeMeWe-4 lands in India in both Mumbai & Chennai.
Lastly, there is also Tata TGN - Tata Indicom cable connecting Chennai with Changi in the North of Singapore.
So there's a very large capacity built up between India and Singapore. As Asia has grown, there is considerable content hosted and cached in Asia itself and hence this demand for connectivity.
Hurricane Electric's Infrastructure in Singapore
Hurricane Electric (i.e my employer!) operates a multi-terabit global backbone and has a presence in around 45 countries around the world including Singapore. We have network PoPs in Equinix SG1, Global Switch, Iron Mountain and Epsilontel. These PoPs interconnect with our PoPs in Marseille (France), Dubai (UAE) and Djibouti on the Western side, with Kuala Lumpur (Malaysia), Taipei (Taiwan), Hong Kong, Osaka & Tokyo (Japan) and Phnom Penh (Cambodia) for connectivity within Asia. On the Southern side, we have circuits from Singapore to Perth (Australia). In terms of peering within Singapore, we peer at Equinix Singapore, MegaIX, BBIX and AMS-IX Singapore.
More peering = more entry/exit points in the backbone!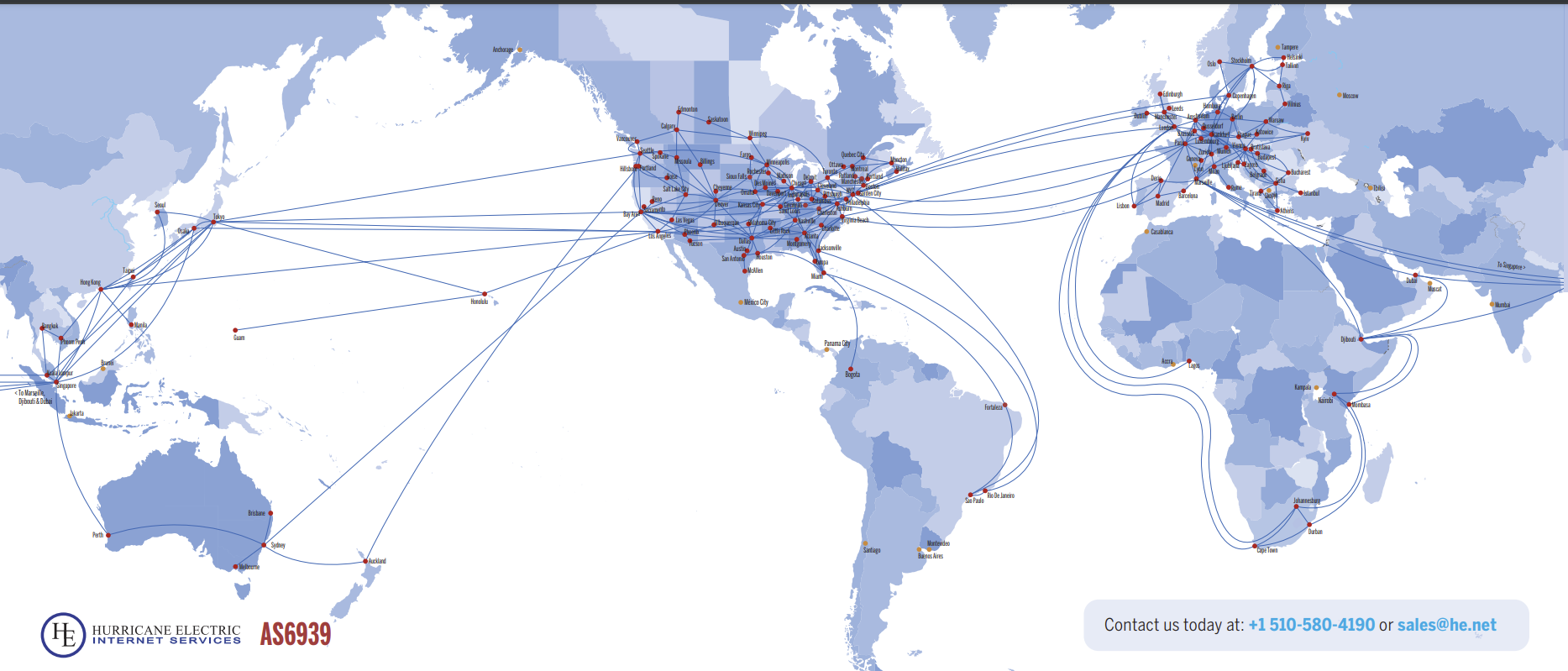 (Look here for the latest official map)
It would be good to meet various friends and colleagues from the industry after a while as this will be the first in-person APNIC event after covid 19 related shutdown. If any of the readers of the blog are around, do buzz me).