Legally changing name in India
Background
I got married a while back. My wife and I had a discussion and both were in favour that she changes her surname. This was also based on our discussion with my sister who suggested getting it done instead of keeping different surnames for us. As we were getting married certificate, we both were surprised to find that my wife's surname cannot be simply updated on various IDs using just the marriage certificate. Instead one has to go through a process. Since I spent a bit of time on this before, here's a quick blog post about how exactly it's done in India. Warning: India specific post. Any International reader can just hang up right away! Plus if you are not in the process of name/surname change, this post would be useless for you anyways! :)   First and foremost, name update can happen only in IDs and not on any certificate document. Certificate work with old name + a notice published in The Gazette of India.  In terms of IDs, we had the following to update: author: "Anurag Bhatia" url: "/2018/05/misc/legally-changing-name-in-india/"
Aadhar Card (has become the most important document in India from last few years)
PAN Card _(_a document used for all financial tracking, Income tax etc)
Passport
Voter ID
Driving License
Now, as we proceeded, we found there are two ways to update this data. Just for the sake of ID update, one can, in theory, go with just method 1. But in order to ensure that educational certificates still work, one has to go through method 2.  
Method 1 - Certificate of identity from Gazetted officer
This method essentially involves getting a photo ID based identity document attested by a Gazetted officer on a plain A4 sheet. UIDAI/Aadhar can be updated based on this document. It has to have a signature, stamp and officer's ID. While it sounds bit weird but it actually works. In our case, my wife's Aadhar data was updated within a day of submission of this document. The content of the document was just that Gazetted officer certifies that they know us, attended our marriage, along with the date.  This document needs a photo of both husband and wife. For us, we were lucky as a known Govt. doctor attended our marriage and attested those for us. Here's sample certificate of identity format: https://docs.google.com/document/d/1t9V0JJ4NHh059EQmn5Ccd3t2JzmEqxYOFc2xMfHhCqE/edit?usp=sharing Using this one can update the name on Aadhar which can be further used for other ID's update. For address update on Aadhar, one can use Marriage certificate (and this has to be done before the update of the name). This gets us a new Aadhar card with updated name and address. For PAN card, we tried doing that online but NDSL's portal was buggy and we ended up in getting it done offline at the nearby authorized agent. One can find the detail of PAN agents on the official website here approach them for updates as Aadhar as the base document and that's the only document they need. After the request, it took around 25 days to get new PAN card. For Voter card, we applied for update online here via form6. This involves both the update of details (name & address) as well as the change of voter's constituency. Form6 takes UIDAI/Aadhar as identity document but not the proof of address. But it does have an option of using a delivered letter by dept. of posts as proof of address. So I ended up in writing a letter to my wife, posted to her on current address mentioning address with usual "W/o Anurag Bhatia" followed by the address and uploaded the delivered envelope with the postal stamp on it (interesting isn't it!). I am expecting that we will get voter card before next Lok Sabha election next year. There is a tracking option though I do not see any updates as yet. Next comes the Passport. As per official govt. website document advisor, married women do not need much other than address proof and old passport.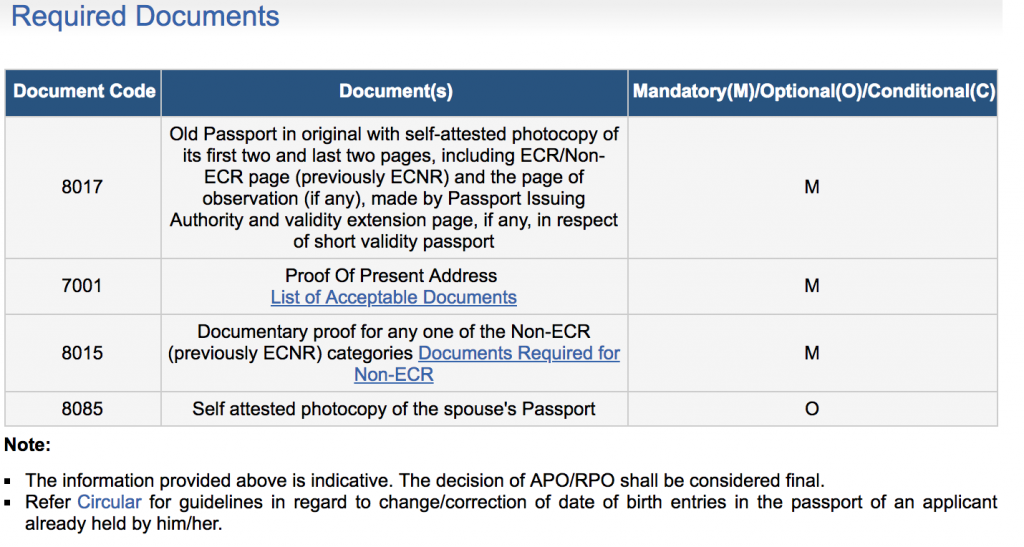 I find this bit of grey area. This seems much simple but has issues:
Passport offices in India always push one to give two IDs. In my case where I was simply renewing my passport with all the same details and document, the finder was not suggesting any document except old passport & it's copy, the MEA officers expected me to show two original IDs. It's kind of standard demand from them to show two IDs.
To get a non-ECNR passport needs some kind of documents like a certificate or income tax document or so. This may not work directly because at this point in time a married women's certificates, as well as tax document, belong to her old surname. So that may or may not work with old documents.
  Since for passport I and my wife need to drive to city bit far away, we ended up in not proceeding with it until we got the PAN updated which leaves us with two IDs. Plus we also did with method 2 which I will describe below.  
Method 2 - Get name change published in the Gazette of India
Basically, The Gazette of India is a public journal of Govt. of India published by the Dept. of Publications. Wikipedia page about it is here. All official notifications of Govt. of India are published in the Gazette. It has a dedicated section for the name change advertisements (Part IV) which they publish on every Sat. By getting a name change advertisement published in the Gazette of India, it makes it 100% official for the name change. It's a popular and only method to get major corrections or even full name change. For the married woman, it's kind of optional due to the method 1 which I posted above. Though as far as I understand, this document is still needed if one is trying to make use of degrees for any official purpose. We did not need it right away but decided to anyways to finish the task of name update to avoid any issues in long-term. This in itself a 100% independent process and one can use it without method 1 to update IDs without involving any Gazetted officer. One can use Gazette publication as base document along with marriage card, photos etc to update PAN card and then use PAN card to update Aadhar card.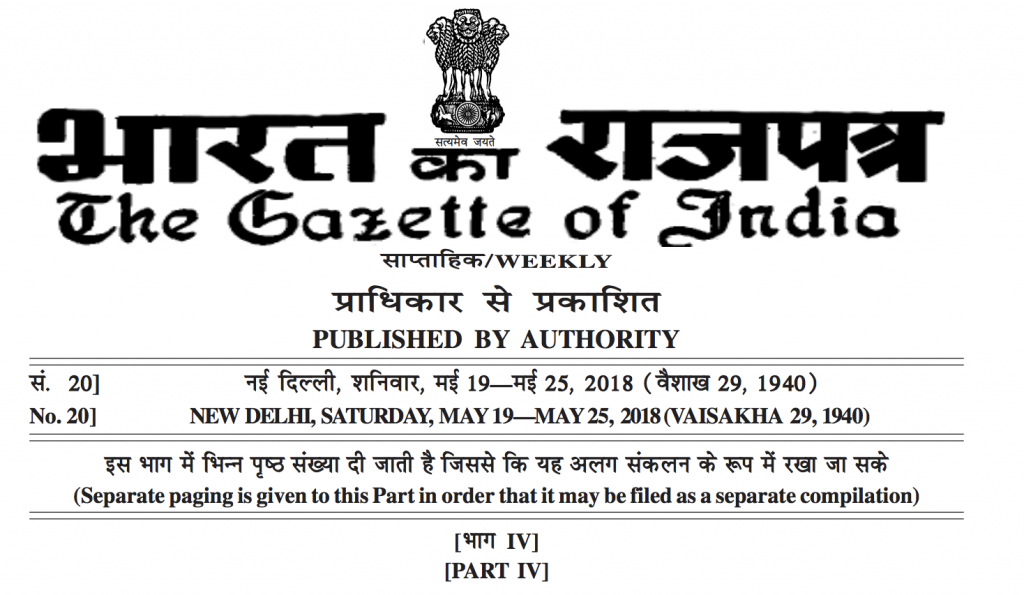 Getting name change published in The Gazette of India itself is a bit of a process. It involves three steps:
Getting a notarized affidavit where bride declares that 1) She's wife of the $Husband_Name resident of $Husband_Residence 2) She's got married to $Husbands_Name 3) She has changed the name from $Old_Name to $New_Name following the marriage and she should be known by new name from that date onwards. (<- This is officially the date when the name is changed and follows a bit long process) 4) She should be called by $New_Name from now onwards In our case, we got this affidavit written in Hindi as per legal language, along with English names in the bracket to avoid any spelling confusions. Getting such affidavit made is reasonably cheap. We got it for 50 INR.
Using above notarized affidavit, one has to give newspaper ad in any local newspaper. We did this online using Releasemyad. They offered much lower price (960 INR) whereas the newspaper directly was selling for 1300 INR.Here's sample ad template which we used:I, $Wifes_Old_Name,  married to $Husbands_Name on $Date_Of_Marriage, residing at $Address have changed my name to $Wifes_New_Name with Affidavit dated $Date_Of_Affidavit sworn before Notary $Notary_Name
Once ad is published, one has to collect newspaper ad and use it to get the name change published in the Gazette of India Part IV. It also needs a bunch of other documents like Specimen Proforma, letter of undertaking, request letter, etc. The document is outdated as per date mentioned for fees but seems like there has been no change in fees. For us 1100 INR worked as mentioned in the document. All the supporting documents we prepared with basic stuff in it as have used till this point like "I am married, and changing surname etc". We submitted a request on a Friday afternoon directly in Delhi and it was published in next to next Sat i.e after 8 days of submission.
Though we have not been required to use the Gazette publication so far but we are keeping it just to make sure we are not required to go through this long process at a time when we need it.  
Misc notes
The method 2 can be used for the name change.
Remember to update the address on Aadhar first after getting marriage certificate because as both marriage certificate and aadhar will have girl's old surname at this point in time. If the name is updated before the address, it may cause the problem to use marriage certificate for address update due to the mismatch in surnames.
One can proceed on both method 1 and 2 in parallel. Method 1 makes it super fast to update aadhar which can be next used to update PAN, name on bank account etc, voter ID etc. While method 2 can finish at its own pace.
That's all about surname change. :)  
Update With PAN card and Aadhar card on new name, my wife was able to update passport in new name and new address easily.