Farm law protests & confusion about democracy
Over two months passed since anti-farm law protests have started. It's having a major impact across life in Delhi, Haryana and Punjab. This post covers it in detail.
Advanced warning: Very India specific post. Has nothing to do with systems or networks. Do not read if you aren't interested in Indian farm distress, the way our democracy works and associated issues.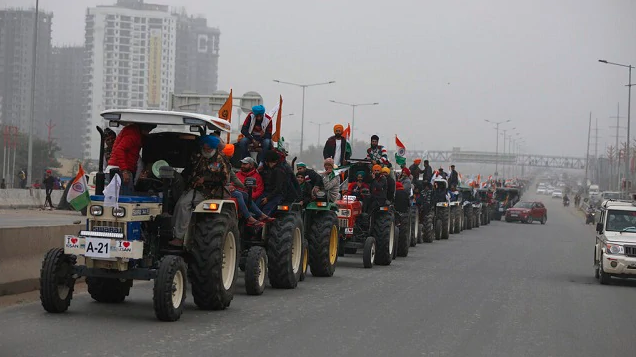 Image source: Firstpost
Background of farming stress
Due to a number of policy decisions, farmers in Punjab and Haryana (and some key areas of UP) got into a vicious cycle of producing wheat & paddy crops in excess. While it was actually a need of the hour when India was in a food crisis decades ago but since the green revolution, it has just continued. A number of expert committees have explored over time to reduce this dependency but lack of political will always come in the way.
Why farmers like growing wheat and paddy in these Northern states:
Govt offers so-called "MSP" or Minimum Support Price for these crops. MSP covers these crops but not all crops and while the concept is to offer minimum support but it has practically become maximum price farmers can get. MSP gives the farmer an assurance that they will get money, especially for these crops.

Electrically is offered for free to the farmers. This was done after a major protest which happened back in the 80s forcing central govt. to make electricity free for farms and effectively running multiple delivery grid lines for domestic Vs farm consumption in rural areas.

Regulation related to groundwater usage is non-existent/not enforced and hence free electricity results in an unlimited free supply of groundwater via tubewell. This report from 2019 covers it briefly.

Farmers who have tried other crops have burnt their hands on other crops due to lack of demand/supply sync up and/or understanding of crops and many other reasons primarily related to scale. Indian farming remains technically quite backward by world standards due to lack of investment of technology. This article from Swarajya in 2017 covers it briefly.
Broadly these reasons have resulted in this situation. It's overall bad because Govt. as of now is procuring way more food grains than needed by the country. Our reserves are soaring to as much as 3-5x of their optimum levels and still Govt. is being forced to procure them due to political compulsions and commitments. A per this Financial Express report from 2019 - FCI spent 1.2 lakh crores / around $14 billion for the excess stock. Despite input subsidy and no income tax, Indian farmer is net taxed due to taxes via other forms like mandi tax of 8.5% (reference).
A large part of excess is just offloaded at throwaway prices and cannot even be exported because it's just not competitive with international pricing. Plus input subsidy also causes a clash for India at WTO due to its rules (reference).
The excess groundwater used here will result in the desertification of Punjab in the very near future (10-15 years) and that will cause more problems. All this besides the yearly pollution problem of North India due to stubble burning in winters. While Govt. of India procures only 7% of total produce via MSP across India, the number happens to be in majority from Punjab, Haryana and Western UP. That tells how biased system is when seen across the country. And while all that is going on people are often seen on TV channels asking what is the issue with the existing system. Why news laws when farmers do not demand it. That's a flawed argument as it ignores so many ongoing issues from economic factors to environmental factors.
New farm laws
Govt. introduced three key laws which essentially indirectly deal with the above problems. The key idea about these laws was to remove restrictions of selling produce. So far Indian farmers have been legally forced to sell produce at the local mandi. There is an exception to this based on state laws and their state laws (like some states did allow contract farming). So once these laws are implemented farmers can sell to any mandi or to the private player or get in contract with any entity across India. (Laws are mentioned here on Wikipedia for slightly detailed reading). While these laws do not talk about the removal of the old Mandi system or even MSP but various leaders of farming organisations have been able to project these as bad for the farmers. Govt. intention seems quite clear - they want to bring liberalisation to the agriculture sector by opening it up, allowing private players and removing the dependence on old, inefficient mandi system. It's important that it will result in the removal of dependence on inefficient mandi system though Govt. as such has not stated that they will just kill MSP or the older system. As a matter of fact, many opposition political parties were in favour of these laws until they were introduced by BJP lead NDA. (Reference article)
Why farmers are protesting
If you look for points made by leaders leading to the farmer protest - they are highly rhetorical and political in nature. But still, one can extract following from their stand:
So all that brought a few lakh (hundred thousand) farmers to the borders of Delhi since December. They had 11 rounds of discussion so far with the Govt. but nothing concluded as they remain adamant on a total pullback by cancelling these laws. Things got more complex as the Supreme court of India is now also involved and has put a stay on implementation of these laws. Furthermore, farmers were just misled by their political leaders and were excited to do a tractor parade on 26th Jan - the Indian Republic Day in New Delhi. That resulted in violence and chaos across Delhi & nearby regions. Many of the protestors went all the way to Red Fort and raised the religious flag over there. There was also a targetted attack on Jio's mobile towers in Punjab due to conspiracy theories about how Reliance Industries (parent of Jio) has pushed for these laws and is a beneficiary of the new laws.
Confusions about definition of democracy
While the protests have been motivated by the fact that it's a healthy way of expressing concern in a healthy democracy. But many things make it quite opposite.
Fundamental arguments are very rhetorical and barely have any content. This includes and not limited to slogans & banners saying "We support farmers" while laws have NOTHING to do with supporting or non supporting farmers. Political parties especially Congress & left have been able to push the argument even to International stages where people like Canadian PM are poking their nose in domestic Indian issues and people putting out a march on UK streets in support of farmers without even knowing how the farming economy works in India. Furthermore, Canada has been one raising objection to Indian policies so far at WTO but opposes the change due to its own domestic politics.

This further adds to the street veto mentality in India. People would call laws of a democratically elected Govt. as fascist while street demand with blackmail & violence as something coming from the grassroots. While on the ground there's not much support for this mentality but news and social media is full of it.
I remember once how a well-educated friend of mine claimed that "Indian Govt. has failed to handle Covid19 situation and how Govt. should be dismissed and an all-party govt. should take over from here". I did ask - "All party govt. of whom? People who lost elections against democratically elected members? Is that your definition of democracy?"

Present NDA Govt. lead by Prime Minister Modi has a majority in Lok Sabha - the lower house of Indian parliament and unlike in the US (where executive & legislature are separate) he has legal control on the legislature (as long as an upper house - Rajya Sabha agrees) and full executive powers. So what they have done so far is totally legal and it's absurd to call them illegal or undemocratic or authoritarian. My opinion would be the same if it was Congress-led UPA instead of BJP lead NDA in power. Democracy is not about street veto but having trust & faith in govt. elected by the people. While the real number of protestors is unknown, their leaders claim it to be in lakhs. Even if it's 5 lakh (i.e 500k) it's just 0.00038% of the population while BJP got 229,076,879 votes (39% of votes casted). To put number is prospective - that is 450 times more people who supported them via a vote even if we believe farm leaders on their numbers. I think it's probably much lower than 500k because politicians would always inflate numbers.

With due respect to the Supreme Court of India - lately, judicial activism has increased in India. Fundamental understanding of the constitution tells us that job of courts is to ensure laws are applied. But here we have a case where the court has held a bill which is passed by the legislature with parliament majority. I am not legally qualified to say if that's legal or not but does set the wrong example. Who can we hold accountable for further stress in the agriculture sector? Who will be responsible for not acting on environmental issues due to wheat/paddy excess due to a bad policy framework so far?

While calling supreme court supreme, farmers rejected the Supreme court committee made to look into the farm laws (reference).

While the protest had a hidden political face from day 1 but now it has been openly hijacked by political parties. One of the farm leaders who openly threatened on camera (Rakesh Tikat) is leading protest after 26th Jan incident. He belongs to Jat community and from last 48hrs it becomes an issue of cast politics of Jat dominance Vs Govt. More on this theprint article here. He has been supported by AAP which is elected party in New Delhi, Congress, JJP (part of BJP lead coalition in Haryana), and more. The person was seen openly threatening for violence followed by actual violence on 26th Jan and as a matter, the fact did stand up in election in 2007 & 2014 and lost both of them. Another leader of the protest Yogendra Yadav has fought and lost the election in 2014. He also incited people for 26th Jan incident (video here).
Still, the moment is claimed to be a non-political moment. This all besides Khalistan supporters actively supporting moment from outside of India.
Long term solution
Broadly this whole thing has two key components - Farm distress and law & order issue. For farming distress, more awareness, campaigning, rebuttal has to be done across masses to ensure they understand what is happening is not sustainable. The country has to get together and turn this wheat & paddy excess into diversified agriculture. An interview of Agricultural economist SS Johl covers it in detail. Some ideas like removing input subsidies like free electricity & other subsidies (which favours Wheat and paddy) and giving direct subsidy on land-area ownership can help. Govt. in Haryana is already trying things like giving subsidy for non-water intensive crops like maize and pulses.
On the question on law and order, India is lacking police reforms. The security forces are under a very tight clutch of the Govt. by means of promotion, transfers and whatnot. It's not only bad for the country as a whole but also bad for any party which is running the govt. Protestors very much know this and hence any police action of crowd control immediately turns political. This problem has been visible across the last three major incidents in these areas.
In case of Jat reservation riots in 2016 - Protestors blocked routes to Rohtak city for 5-6 days & police could not act. I personally travelled during that illegal block to Auckland, New Zealand for APRICOT 2016. I was planned to go there for Network Security session & left home tensed. Almost cried on mid pause at Hong Kong airport after hearing news about riot situation back home. Govt. did not act and kept showing restraint for political reasons until when the situation got out of control and after a major riot BSF and army had to be called in to impose curfew and control the situation.
During court case on Gurmeet Ram Rahim in 2017, his followers gather in Panchkula for weeks before the hearing date & caused riot as soon as the news came out for his arrest as he was convicted of rape. Again their police did not act because they were not allowed to act due to political compulsions. These political compulsions come because of people who belong to a specific group who support violence as blackmail weapon would not vote if state machinery blocks them but people outside of that group would generally not care. Hence if you act - you loose vote. If you don't act you don't loose vote despite chaos on streets, bad law & order situation, massive losses to the public & private property.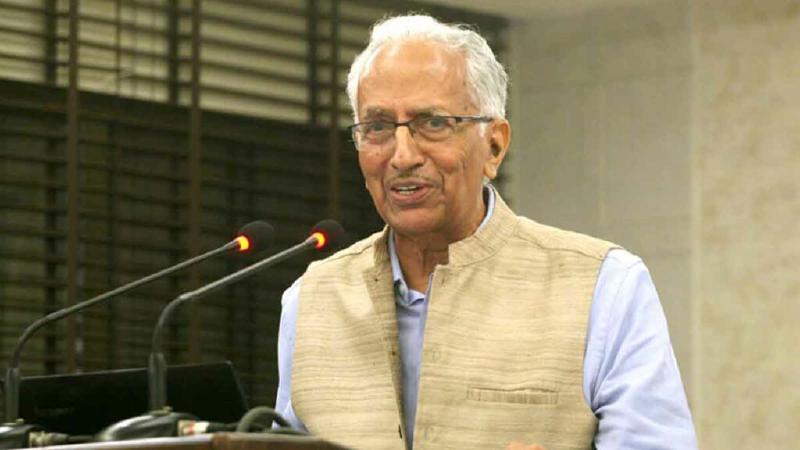 Prakash Singh (Retd. DGP, BSF)
Retired DGP Mr Prakash Singh did suggest for some key policy changes to reduce the political clutch for police from executive but so far no Govt. has accepted those. Even after Supreme Court accepted his petition and gave orders to restructure in 2006 - most of state govt. have just not fulfilled those in reality. He once said that "we cannot have a modern developed society with such a politicised police force". If today police weren't under the clutches of Govt. they would have acted. Plus Govt. would not have worried that much politically because they wouldn't be the ones issuing orders to act.
Despite all these problems I do love my country and would love to be in democracy over an authoritative regime. Democracy may have its side effects in short term but always works best in long term.
More awareness has to be spread that long term policy making & following will help us solve our problems and not a mentality of street veto to serve political gains of a few handful people. Besides instability in Delhi, it makes us all worried about instability in Punjab. People from my generation have taken that for granted but that wasn't the case. This presentation by the ThePrint covers those hard years in detail.